Are you tired of ordering the same old takeout food every week? If you are looking to spice up your takeaway game, why not try something new and exciting? Nepalese food takeaway in Amsterdam is a delicious and convenient option that's sure to tantalize your taste buds.

Amsterdam has a diverse food scene that reflects the city's multicultural makeup. In recent years, Nepalese cuisine has become increasingly popular, with several restaurants offering authentic dishes from the Himalayan country.
What to expect in a Nepalese Food takeaway in Amsterdam?
Nepalese cuisine is a unique blend of Indian, Tibetan, and Chinese flavors. It features a wide range of spices and herbs, as well as rice, lentils, and vegetables. Some of the most popular Nepalese dishes include momos, dal bhat, mint chicken tikka, and much more.

And how can we forget the very popular momos? These are steamed dumplings filled with meat or vegetables and served with a spicy dipping sauce. Dal bhat is also a traditional Nepalese meal that consists of rice, lentil soup, and various side dishes. Why must you try Nepalese food takeaway in Amsterdam? Trying Nepalese food takeaway in Amsterdam at least once in your lifetime can be a unique and exciting culinary experience for several reasons:
1. Delicious flavors: 
Nepalese cuisine is known for its delicious, unique flavors and spices. With a blend of Indian, Tibetan, and Chinese influences, Nepalese dishes offer a unique taste that can't be found in other types of cuisine.
2. Healthy options: 
Many Nepalese dishes are made with fresh and healthy ingredients such as lentils, vegetables, and lean meats. This makes Nepalese food a great option for those who are health-conscious or looking for a nutritious meal.
3. Cultural experience: 
Trying Nepalese food can be a great way to experience a new culture and learn about its traditions and customs.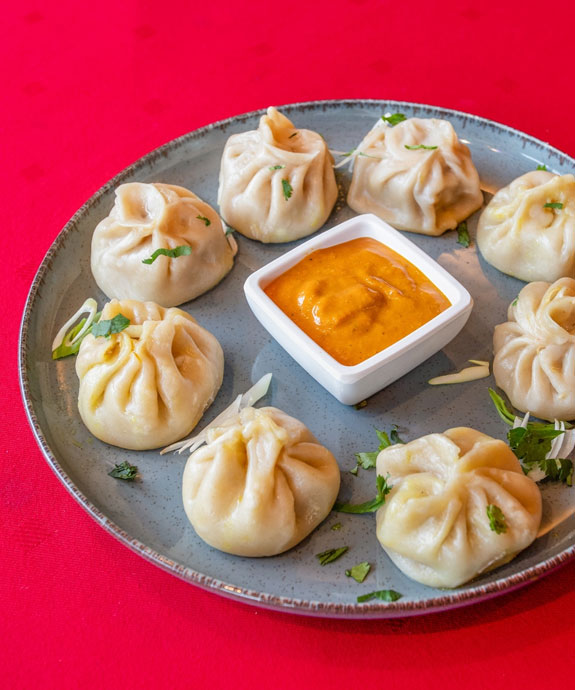 Top 3 Popular Nepalese dishes that can't be missed
Here are the major dishes that you must try if you are planning a Nepalese food takeaway in Amsterdam.
1. Momos
Momos are one of the most beloved Nepalese dishes, and can be found in all the Nepalese menu. These steamed or fried dumplings are typically filled with ground meat, or vegetables, and can be served with a variety of dipping sauces. With us you can also enjoy a variety of momos such as steam momo, chilly momo in both veg and chicken variants.
2. Dal bhat tarkari
Dal bhat tarkari is another vegetarian staple of Nepalese cuisine that is loved by many people throughout the country. This dish consists of lentil soup, rice, and saag aloo. Traditionally, dal bhat is served with pickles or chutneys on the side.
3. Aloo tama ra bodi
Aloo tama ra bodi, a dish made with potatoes, bamboo shoots, and black-eyed peas, is also a must-try for anyone looking to sample authentic Nepalese cuisine.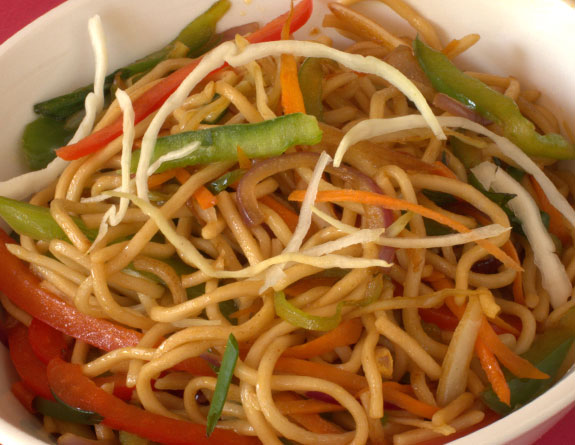 Tips for trying Nepalese food
If you are new to Nepalese cuisine, it can be helpful to know a few tips and tricks for navigating the menu. Consider starting with some of the more familiar dishes, like momos or a bowl of hot soup, before branching out to more exotic options. When eating with utensils, it's traditional to use your right hand only, and to avoid touching food with your left hand. And don't be afraid to ask our staff for recommendations or explanations of unfamiliar dishes!

A delicious Nepalese food takeaway awaits you, Order now! Amsterdam's Nepalese food scene is a testament to the city's culinary diversity and multiculturalism. Whether you are a seasoned Nepalese food lover or a curious newcomer, there's something for everyone to enjoy at Annapurna Kitchen, Amsterdam's best Nepalese restaurant. From momos to dal bhat to thukpa and beyond, the flavors and aromas of Nepalese cuisine are sure to delight your taste buds and transport you to the foothills of the Himalayas.

So if you are looking for Nepalese food takeaway in Amsterdam, Annapurna Kitchen is a great option to consider. Located in the heart of the city, this restaurant offers a variety of traditional Nepalese dishes that are available for takeaway.

Ordering takeaway from Annapurna Kitchen is easy and convenient. You can place your order online or by phone, and the restaurant will keep your order ready for takeaway. Whether you are craving a hearty meal for lunch or dinner, or just want to try some of the delicious flavors of Nepalese cuisine, Annapurna Kitchen is a great choice for takeaway in Amsterdam.